Occiam Wireless Earbuds with LED Display
Product Price
$49.99 $29.99
Product Review Score
4.86 out of 5 stars
113 reviews
When you order through these links, we may earn a commission at no additional cost to you.
Additional Product Details
LED Power Display for Charging Case: the wireless Bluetooth headphones' charging case features an LED power display that shows the remaining power in percentage. The charging case displays its battery level from 1% to 100%. While charging the right or left wireless ear buds earbuds Bluetooth, the LED bars for the earbud on the case will flash. Once the earbuds wireless Bluetooth are fully charged, the LED bars will no longer flash.Convenient to know the charging status of your wireless earbuds.
48 Hours Battery Life with Charging Case: The built-in 600mAh charging case provides a total of 48 hours of battery life. Each sport Bluetooth wireles earphone can last for 8 hours of music time on a single 1.5-hour charge.The charging case can recharge the twin Bluetooth wireless sports earbuds up to 6 times, resulting in a total playtime of 48 hours when using the portable charging case.You can enjoy uninterrupted music with wireless Bluetooth headphones during your workouts.
Stereo Music & Clear Call: With audio technology, Bluetooth wireless earbuds produce rich, immersive sound with deep bass and clear treble.The true wireless earbuds feature noise-canceling calls, effectively reducing partial background noise, guaranteeing a stable signal and minimal power usage during phone calls.Experience immersive stereo sound and enjoy hands-free calls while working out, wirelessly and effortlessly.
One-Step Auto Pairing: Simply pick up Bluetooth earbuds wireless from the charging case, and they will power on and automatically pair with each other.Then activate Bluetooth function on your mobile phone and search for "T17" to connect. After the initial successful connection,the earbuds wireless Bluetooth will automatically connect to the last paired device upon reboot.When using a single earbud wireless, just remove the second one to seamlessly transition between single mode and twin mode.
Engineered Design for Sports: The wireless Bluetooth earbuds are designed with adjustable and secure-fit silicone ear hooks and an ergonomic design, ensuring a comfortable and firm fit during running, and other outdoor sports activities.They come equipped with 3 pairs of different-sized spare ear caps for options. Even during strenuous exercise,the earbuds wireless Bluetooth will not fall off. And IPX5 waterproof rating protects headphones wirelsess Bluetooth from water drops or sweat damage.
Our Policies
Secure Checkout

Guaranteed safe & secure

Easy Returns

Fast & easy product returns
More options on eBay...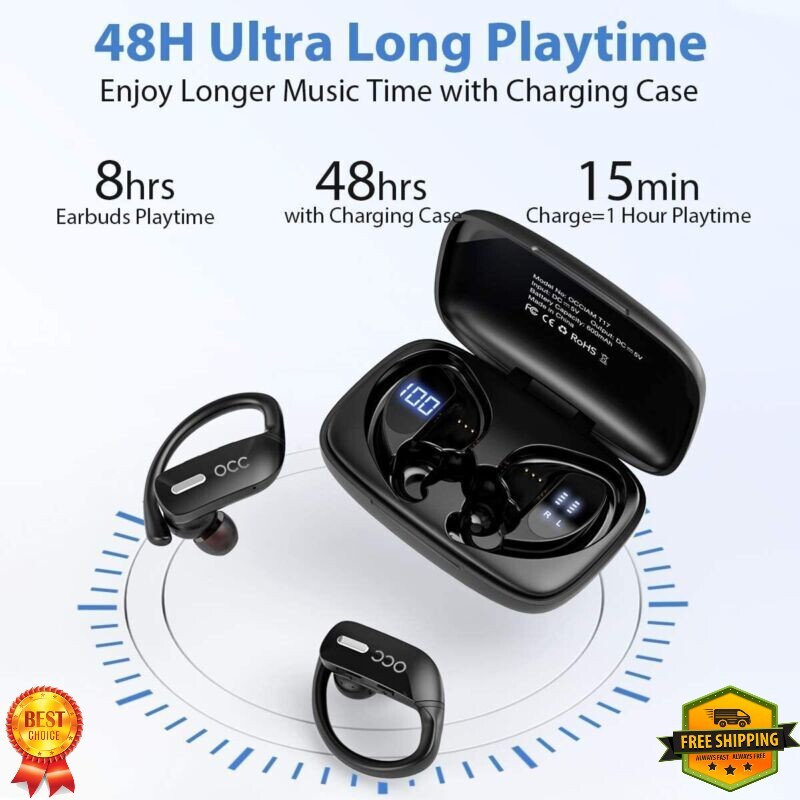 Bluetooth Wireless Earbuds Waterproof Stereo With LED Display For Sports Running
When you order through these links, we may earn a commission at no additional cost to you.